Panda Free Antivirus
2015
If tiles aren't enough for you
An antivirus program that looks like a miniature Windows 8 interface has been spotted in the Spanish wilderness. Although the name Panda would suggest a different ancestry, this one is fairly anchored in the European space. Nevertheless this is not relevant in any way.
Prevention
Panda Antivirus Free has interesting interface. It is mainly a three page dashboard that is reminiscent of the well known tile interface. This makes it a fun exercise in interior decoration to rearrange the buttons to suit your artistic preference. Once you've played though, you will probably not bother with it again. The not so cool part of it is the presence of a considerably sized unmovable and removable tile that advertises the Android version. Other than that you can add, move and remove tiles as you wish.
Feature wise, Panda antivirus is quite generous with its free version. Besides the standard antivirus scan that comes in three variants (Full, Custom and Critical areas), Panda also allows you to set up scheduled scans.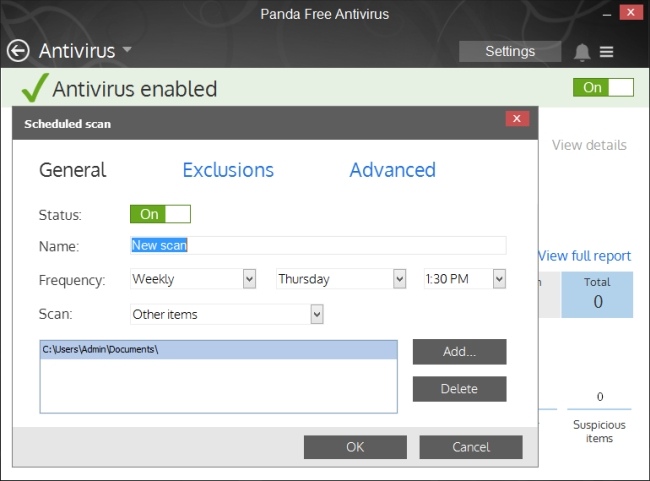 Process Monitor is an exciting feature. It allows you to check on running processes without going to the Windows Task Manager. From there you can get a report and see which processes are accessing the net and how secure they are overall. You can also zoom to a single process and block it.
Besides scanning and also keeping an eye on processes, Panda Antivirus can also vaccinate your system and USB drives. The system is vaccinated automatically once the program is installed. This means that you would be at no risk of infection by inserting USB sticks. The reverse is true for sticks. Albeit you may voluntarily decide if you want to vaccinate them automatically.
Features:
Scheduled antivirus scans
USB Vaccination
Process monitor
Pros:
The USB vaccination is quite handy if you often deal with foreign drives
Cons:
Conclusion
All in all, that's what panda Antivirus Free has to offer. A pretty good deal if you ask me. Especially since foreign USB sticks are like dirty needles. Still, people use the cloud these days, so it might be just a non issue.
RELATED PROGRAMS
Our Recommendations
---
---
---
---